The Flame Detector Company
SENSE-WARE is a manufacturer of Flame Detectors and Test Lamps which sells high quality safety products since 2001. Our mission is to supply our customers products that fulfill their needs in the safest and most simple way. The key to our success is that we continuously update our technical knowledge on Flame Detectors and Test Lamps. We are an OEM selling through distributors and Private Label Resellers.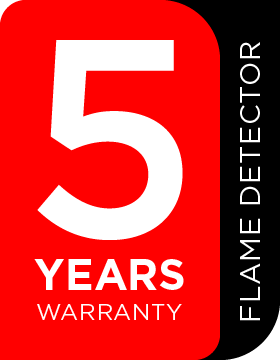 We are confident that our Flame detectors are of the highest quality in the Industry so we grant a 5 years warranty. The SENSE-WARE Quality Management System (QMS) is certified to ISO 9001:2015 and ISO/IEC 80079-34:2018.
WHY SENSE-WARE?
Various Best in Class Flame Detectors for zone 2 – div 2
Many years of experience in flame detection
Up to date technical knowledge and constant product development
A certified quality program according to ISO 9001, ISO/IEC 80079-34, FM Approvals, SKG-IKOB and IECEx QAR & ATEX QAN
Features
Hazardous Area zone 2 - div 2
More than 85% of all industrial Flame detectors are actually mounted in zone 2 - div 2 or Safe Area. Why spend too much money on an expensive zone 1 - div 1 detector when you don't really need it?
Up to 23/35 m (75/115 ft)
SENSE-WARE flame detectors detect 0.09 m2 (1 sqft) n-Heptane flames at a distance up to 23 m (75 ft) for UV and UV/IR and 35 m (115 ft) for the IR3. More than enough for more than 95% of the applications where Flame detectors are used.
CPR/EN54-10 and FM class 3260
SENSE-WARE UV, UV/IR and IR3 Flame Detectors are CPR/EN54-10 certified and FM class 3260 approval for performance. Independent third party testing imparts safe ownership.
Mid-Market, best in class
Why spend money on a High-End product that is difficult and costly to install and maintain when you can have a Flame detector that works for your application for less money?