Flame Detectors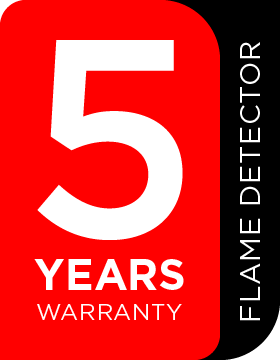 Flame detectors are known for their fast response to open fires. Applications vary from indoor to outdoor and from hydrocarbon to non-hydrocarbon fuels. SENSE-WARE offers the best suitable UV, UV/IR and IR3 Flame detector for your plant. With SENSE-WARE Flame Detectors installed the safety of your workers is monitored while at the job or back at home with friends or family.
How to select the best Flame detector for your Application?
A "One size fits all" approach may lead to false alarms or non-detection events. Also maintenance failures may lead to unsafe situations. It is most important to know facts about the application and select the best possible Flame detector:
Flame Detector Selection Guide
Want to read some more about the Sense-WARE Flame detectors? Please download your Brochure here: USA version (pdf) or the EMEA, Oceania, AP version (pdf).
| Application | UV | UV/IR | IR3 |
| --- | --- | --- | --- |
| Aircraft hangars | | | |
| Atriums | | | |
| Battery storage/data communication rooms | | | |
| Biogas | | | |
| Car, bus, streetcar, and train parking areas | | | |
| Sterile rooms such as semi-conductor, medicinal drug manufacturing, and hospital operating rooms | | | |
| CNG refueling stations for buses (for public transport) | | | |
| Cold storage | | | |
| Conveyer belts | | | |
| Diesel engine rooms | | | |
| Electric power transformers | | | |
| Engine test cell rooms | | | |
| Fume hoods | | | |
| Gas cabinets | | | |
| Gasoline storage/gas engine rooms | | | |
| Service stations and plug-in (hybrid) charging stations | | | |
| Heating rooms for chemicals | | | |
| Hydraulics (such as extruders) | | | |
| Indoor chemical, fuel, and solvent storage | | | |
| Indoor hydrocarbon storage and processing | | | |
| Indoor hydrogen storage and processing | | | |
| Radio amplifier rooms/isolators for antennas | | | |
| Laboratories | | | |
| Loading and unloading bays: for semi, train, and marine | | | |
| Machinery monitoring | | | |
| Outdoor chemical, fuels, paint, and solvent storage | | | |
| Outdoor hydrogen storage and processing | | | |
| Oil and gas pipe line and pumping stations | | | |
| Paint spray booths | | | |
| Recycling and waste processing plants | | | |
| Wind turbines | | | |
| Livestock barns, -stables or -stalls | | | |
Suitable: Recommended: