Flame School Handbook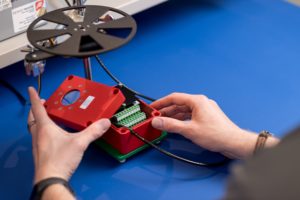 The Flame School Handbook is meant as a guideline for end users, fire detection companies and installers who want background information before purchasing and commissioning a fire safety installation. The Flame School Handbook provides miscellaneous information on flame detection properties, project design information and physical background information.
For the right choice of SENSE-WARE flame detectors for your application you can check the Flame Detector Selection Guide.
CONTENTS
Please find the following Flame School items below:
Flame School Handbook – All pages (PDF)
—-
Chapter 1 – Introduction (PDF)
Chapter 2 – Flame Detector Properties 
2.1 – Cone of Vision (PDF)
2.2 – Square law (PDF)
2.3 – Detection range (PDF)
2.4 – Properties of SENSE-WARE Flame detectors (PDF)
Chapter 3 – Flame detector project design 
3.1 – System design (PDF)
3.2 – System design questions (PDF)
3.3 – Project description (PDF)
3.4 – Project description flame detection, explained (PDF)
3.5 – Project description flame detection, template (PDF)
3.6 – Flame detection comparison (PDF)
3.7 – Flame detection checklist (PDF)
3.8 – High-end vs. Mid-range flame detectors (PDF)
3.9 – Flame detectors Zone 1 vs. Zone 2 (PDF)
Chapter 4 – Flame School EN54-10 (PDF)
Chapter 5 – Development in Flame detection (PDF)
Chapter 6 – Test fires for flame detectors (PDF)
Chapter 7 – Physical background 
7.1 – Fire type (PDF)
7.2 – Black body radiation (PDF)
7.3 – Fire radiation (PDF)
7.4 – Sunlight transmission (PDF)
7.5 – The Spectrum (PDF)
Chapter 8 – Glossary of terms (PDF)