UV Flame Detector
The SENSE-WARE UV (Ultraviolet) Flame Detector utilizes a microprocessor for sophisticated electronic signal analysis. The UV flame detector is suitable for indoor and outdoor applications, such as fume hoods and hydrogen storages. Because of its non-corrosive housing it is suitable for indoor industrial areas were corrosion may play a role. UV (Ultraviolet) energy is emitted by almost every fire; both hydrocarbon and non- hydrocarbon fires. The Ultraviolet Flame Detector will alarm to Arc Welding.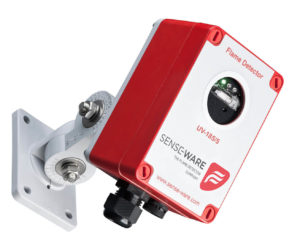 Product specifications UV Flame detector
Sensitive to virtually all fires including Hydrogen Flames
The UV flame detector is resistant to artificial- and sunlight
Automatic sensor test
Ultraviolet flame detectors are suitable for indoor and outdoor applications
Operating temp.: -40 to +70°C (in Safe Area's only)
GRP housing
Relay output for Alarm and Fault
Sinking 4-20 mA output (stepped)
CPR-EN54-10 certified
FM class 3260 approved
ATEX certified: II 3G  Ex nA IIC T4 Gc, II 3D Ex tc IIIC T 71°C Dc IP65, ambient temp.: -25° to +70°C
cFMus class 3611 (Nonincendive, Class I, II and III, Div 2), ambient temp.: -25° to +70°C
California State Fire Marshal (CSFM) listed
5 Year WARRANTY
Ultraviolet flame detector Models
UV-185/5CZ, with CPR/EN54-10 approval and suitable for ATEX cat. 3 for zone 2/22, FM class 3260 and cFMus class 3611 Approved.
Literature
Certificates
Listings